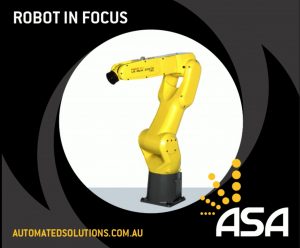 In the LR Mate series, the FANUC LR Mate 200iD/14L delivers the longest arm and largest payload combination. With a maximum wrist payload of 14 kg, the FANUC LR Mate 200iD/14L has great load capacity given its size. In contrast, the robot itself weighs just 27 kg in total. Its 911 mm maximum reach enables more operational freedom, while precision movement is possible utilizing all 6 axes of control, with repeatability of just 0.01 mm.
The FANUC LR Mate 200iD/14L can be mounted in a variety of ways depending on the needs of the task, including floor-mount, inverted for ceiling mounting, or angle-mounted. All programming for the robot is performed through the integrated ROBOGUIDE software suite.
To read more about this robot, click here.