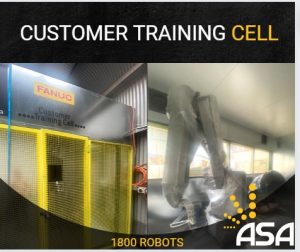 Meet our in-house spray booth, based at our South Australian headquarters in Adelaide.
We use our customer training cell for a variety of purposes, including setting up robots to perform trials on our customers' parts, to confirm paint coverage, quality, film builds, and so forth. We use this handy little area to prove out the process before we get to the site, as well as run trials for customers before they commit to purchasing anything. We also often use it to train in robot programming for our staff, as well as our customers.
At ASA, we are Australia's leading automation integrator for paint finishing. For all your paint finishing needs, Automated Solutions Australia is without a doubt the expert you need to partner with.
To speak to Australia's Paint Finishing experts, Phone 1800 ROBOTS (1800 762 687)