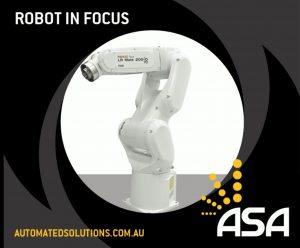 The FANUC LR Mate 200iD/7C has a greater lifting capacity and reach than its junior counterpart, the LR Mate 200iD/4SC. This permits a larger work envelope and bigger workpieces. The maximum wrist payload is 7 kilograms, and the reach is 717 mm. There is a clean room variant with a 911 mm long arm that is available. Depending on the application, the robot can be mounted in a variety of ways, such as on the floor, inverted on the ceiling, or at an angle.
The FANUC LR Mate 200iD/7C is the optimal option for automating complex processes in clean and controlled environments. Construction of medical devices and difficult clean room assembly tasks, such as locating circuit board components, are typical applications.
Picking/Packing – In food and beverage manufacturing facilities, it can be used to hygienically transport, sort, and pack the goods. The enormous payload capacity of the robot facilitates the manipulation of bulkier objects or groups of objects, thereby increasing productivity.
To read more about the FANUC LR Mate 200iD/7C click here.
To speak to an industry-leading expert, phone 1800 ROBOTS.