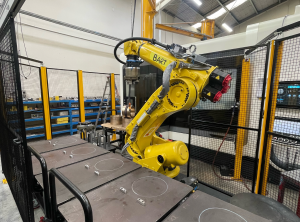 On any given day in Christchurch, New Zealand, you'll find old car radiators, tangled electrical wire, taps from yester-year, and other trinkets, slowly bubbling away inside a furnace at temperatures around 1500 degrees Celsius. Once these items are reduced to a molten form, they are converted into forty types of specialised bronze and brass alloys, which can then be transformed by on-site machining processes into precision components such as valves, engine parts, gears and even bushes and other critical components within wind turbines. Such is a day in the life of AW Fraser.
Since the 1930's, AW Fraser have been offering an end-to-end solution for high grade metal components. Since then, the company has become a global leader in supplying bronze and brass components to over thirty-five countries globally. 
With a foundry, extrusion plant and machine shop all located on one site in Middleton, AW Fraser can leverage their unique competitive advantage and have full control of quality from start to finish. Reprocessing of any remnants, chips or swarf on site means everything is recycled or reused and allows very competitive pricing for machined blanks or machined parts.
Metal comes to AW Fraser and is sent to the scrap bay, where it is sorted, graded, and turned into a form the foundry can use, referred to as a charge. Each charge is issued per alloy of what AW Fraser are trying to make. Products are cast into horizontal castings, vertical castings and centrifugal castings, where they are then cut efficiently and to the highest quality standard. Once the bar has been cast, it will head off to the machine shop or external customers to make final machined components out of the cast metal. If the raw stock reaches the onsite machine shop, the CNC machines turn the raw material into precision machined products that are then measured by CMM to ensure the most stringent tolerances and quality targets are met. 
Recently, AW Fraser invested in three automation cells with Automated Solutions Australia (ASA). Jody Tuckwell, Operations Manager from AW Fraser reflects that in working together with ASA, 'From conception through to commissioning, this project was never a transaction, it was a collaboration. Both parties came to the table with the utmost respect for each other's skills and experience and as a result the outcome has been phenomenal.' 
The first two cells are tending two of AW Fraser's recently installed multitasking turn and mill machines, a DMG Mori NTX 3000 and an NTX 2500. ASA coupled each of these machines with a Fanuc R2000iC/270F, increasing throughput significantly by tending to the machine around the clock to unload machined parts and reload raw stock as soon as the machine is ready. 
ASA designed each cell with a floor mounted robot and five infeed bays, designed to receive AW Fraser's ingenious parts trollies and work pallets. The work pallets are designed to glide on a cushion of air from the trolley onto the CMM, allowing a 150kg bush to be taken from machining, through inspection and onto packaging without having to sling, lift or slide it. 
Each robot can access multiple grippers to load and unload parts from the machine, automatically performing gripper changes between the load and unload if required. The more common grippers are duplicated in each cell, but the specialised, extremely heavy grippers are able to be moved between the cells as required. 
The third cell is nearly a duplicate of the second cell with their third Fanuc R2000iC/270F tender yet another DMG Mori NTX 2500. The proven trolley and pallet configuration is being employed again as is the flexible gripper configuration, however the available workshop space dictates a slightly different layout and access to the previous two cells. 
Each cell was designed by ASA after close consultation with AW Fraser to understand the existing pain points and desired outcomes from this investment. Each Fanuc robot cell is equipped with Automated Solutions' CNC Toolroom software. The software allows the machine tending sequence to operate in a number of ways, each selectable to suit the part being machined. 'To eliminate the risk of operator error, the ASA team encapsulated everything into a fully customised touch screen and simplified the PLC system.' said Tuckwell.
"With all the time we have saved with automation, our operators are now able to focus more of their attention on the product's overall quality, something in which they take a great deal of pride."
For a conventional machining process with raw part in, finished part out, the robot picks the raw bronze billets up from a work pallet and loads them into either the main spindle or the sub spindle of the machine depending on the loading operation that has been setup for the part. When the machining cycle has finished, the robot then unloads the machined part from either the main spindle or the sub spindle and places this finished part back onto the infeed trolley. Most jobs operate this way with twin spindle machines.
AW Fraser also have parts that use the raw part in, multiple finished parts out machining process. In this method, the robot loads the raw billet into the main spindle and progressively unloads 9 finished parts from the sub spindle before finally unloading the remnant piece left over from the machining process. After unloading the remnant and placing it adjacent to the 9 finished pieces, the robot loads the next raw billet and repeats the process. Tuckwell remembers the first day of operation fondly 'When we were originally conceptualising the project, I dreamt about the day we might one day run twenty-four hours straight. Then, when that happened and we continued running unmanned for 48hours uninterrupted, it was the stuff dreams are made of.'
Through close collaboration from the initial design stage to implementation of the automation, AW Fraser and ASA have managed to reduce cycle time and offer greater overall productivity, along with improvements in safety and flexibility. Tuckwell says 'Because of the time we have saved with automating our processes, our machinists are enthusiastically upskilling through robust training regimes. With all the time we have saved with automation, our operators are now able to focus more of their attention on the product's overall quality, something in which they take a great deal of pride.' 
From start to finish, this fascinating process offers a brief insight into a full circle recycling process; following scrap metal through the furnace, into the foundry and extrusion plant, before being turned into high quality precision components in the machine shop. Perhaps equally as fascinating is the unique position AW Fraser finds themselves in, having been in business so long and now seeing components they've already recycled, return years later to be recycled again, a truly sustainable manufacturing process.
Visit the AW Fraser Youtube Channel