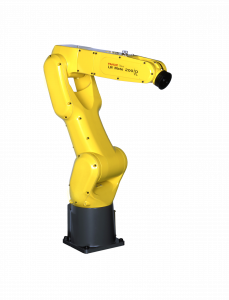 The FANUC LR Mate 200iD/7L possesses the longest arm length available in the LR Mate range. Capable of automating a wide array of manufacturing and handling processes, with a maximum reach of 911 mm. This allows for a larger work envelope and more travel, while undertaking its processes.
With a payload capacity of 7 kg at its wrist, the FANUC LR Mate 200iD/7L is perfect for material handling applications including machine tool tending and pick and pack operations. Additionally, strong electric servo motors deliver high tip speeds of up to 11 m/s, resulting in faster cycle times, leading to increased production throughput.
It can also be completely customised to meet a range of production needs. The mounting options for the unit include floor mounting, upside-down ceiling mounting, and angle mounting.
To find this in the news section of our website, click here:
To learn more about the LR Mate 200iD/7L Robot, click here: https://automatedsolutions.com.au/fanuc-robots-australia/fanuc-lr-mate-200id-7l/
Want to talk to one of our industry leading experts about the LR Mate range? Phone 1800 ROBOTS