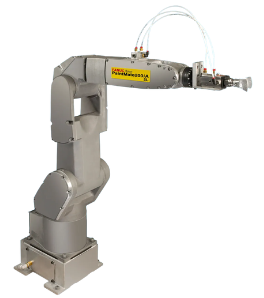 FANUC Paint Mate 200/5L Robot- A Perfectly Tailored Solution
The electric servo driven FANUC Paint Mate 200/5L Robot comes with a standard handling capacity of 5kg and an increased maximum reach of up to 892mm. Matching this with the compact design, make it a perfectly tailored solution for a range of small part painting processes.
FANUC Paint Mate 200/5L Robot- Lightest in it's Class
The FANUC Paint Mate 200/5L is the lightest weight robot (35kg) in its class. With optional one or four pneumatic three-way solenoid valves located in the purge cavity for gun triggering capability. This robot would make a great addition to any manufacturing facility. It comes with floor, inverted, angle and wall mounting options to get the most out of even the smallest of booths.
Not only is the FANUCPaint Mate 200/5L ideal for painting applications, it can also perform a variety of other tasks. These include coating, assembling, handling, material removal and dispensing operations which might require an increased reach. Additionally, it is perfect for hazardous environments where harsh chemicals pose a danger to your staff.
ASA is your ideal FANUC industrial and FANUC collaborative robot integrator.  Our industrial engineering team at ASA are FANUC robot specialists, from concept to system designs, installations, programming and support. At Automated Solutions Australia (ASA) we thrive on helping Australian business of all sizes achieve their automation goals, enabling Australian manufacturers to compete on the world stage.  To chat about the FANUC Paint Mate 200/5L and all your FANUC industrial Robot and FANUC Collaborative Robot needs, Automated Solutions Australia are your Australian industry leading experts.
This FANUC robot is an intelligent, quick painting robot with a long arm reach and flexible work envelope.
Click an Application to Explore Further:
 FANUC Paint Finishing,  Welding, Palletising Robots,  Machine Tool Tending,  Robotic Vision Inspection Systems,  Plastics Painting,  Materials Handling Applications, Deburring and Polishing,  Fibreglass and Gelcoat Robots,  Sealing and Dispensing,  Picking and Packaging,  Material Removal,  Shot Blasting and Peening