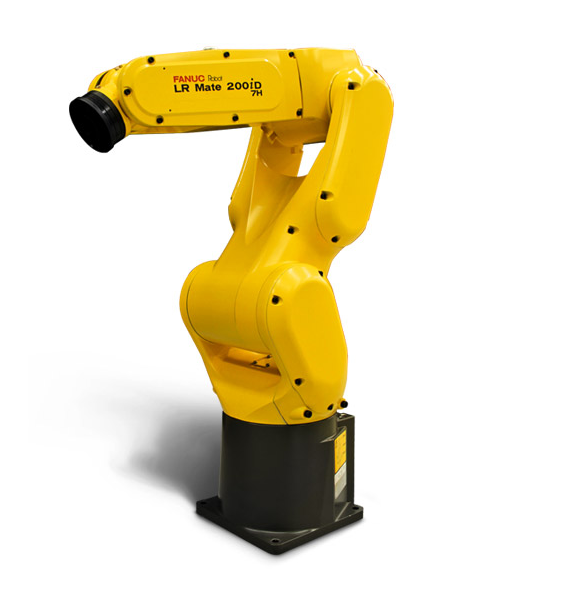 FANUC LR Mate 200iD/7H 5-Axis Robot
The FANUC LR Mate 200iD/7H is a robust and versatile option for performing high-speed and manufacturing tasks. The wrist joint of the robot can rotate at up to 1500 °/sec, enabling applications where fast-moving tooling is required. The arm also has a maximum reach of 717 mm and a maximum payload of 7 kg.
The FANUC LR Mate 200iD/7H is designed for applications where 5 axes of motion are able to provide sufficient dexterity, in comparison to other models such as the LR Mate 200iD/7 which has 6 axes. As with all robots in the LR Mate series, it can be mounted in a variety of formats.
Applications of the FANUC LR Mate 200iD/7H
The fast speed and mid payload make the FANUC LR Mate 200iD/7H the ideal option for cost-effective compact processes. Common applications include:
Material removal – This robot is perfectly suited to material removal tasks such as grinding, polishing and drilling. 5-axis control is usually sufficient for these processes, making it the perfect option.
Assembly – It can be used where fast movements are required to precisely fabricate mechanical equipment. The unit has repeatability of just ±01 mm. The result? Excellent accuracy.
Material handling– It can also be used with optical sensors to move materials with reliability, in many environments. These include as palletising, packaging or sorting procedures.
Automated Solutions Australia has decades of experience integrating FANUC robots to suit your needs. Contact the friendly team at ASA today to discuss how FANUC LR Mate 200iD/7H robots can transform your production processes.
This FANUC robot provides an economical solution in a wide variety of production processes. Contact ASA today to find out how this robot can work for you.