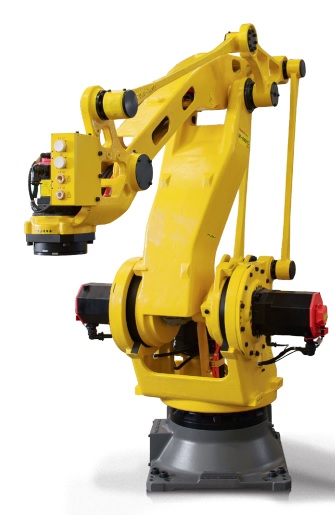 FANUC M-410iC/110 is the Fastest Palletising robot in its Class
The FANUC M-410iC/110 stands out for its slim form and efficient kinematics. This allows it to conduct robotic palletising duties at a fast rate (2,200 cycles per hour) while maximising the available workspace. With a working range of 2,400 mm, the FANUC M-410iC/110 is the fastest palletising robot in its class compared to the bigger versions in its series.
Assembly
Load/Transfer
Dispensing
FANUC M-410iC/110 Features
This palletising type is unhindered in its ability to carry out its duties. Its kinematics allow it to achieve the highest degree of palletising efficiency within a given area.
To guarantee optimal palletising, this model establishes an optimum palletising operating envelope. This offers it a greater range of motion, which is ideal for stacking pallets of various heights.
Its little size offers the FANUC M-410iC/110 a speed edge. It is much quicker than other robots in the same range.
This robot model forms part of ROBOGUIDE, FANUC's offline programming tools. ROBOGUIDE is a fantastic tool that allows offline creation of cells, systems, and movements by integrators, planners, and users.
Automated Solutions Australia (ASA) is your ideal FANUC industrial and FANUC collaborative robot integrator. Our industrial engineering team are FANUC robot specialists, from concept to system designs, installations, programming, and support. At Automated Solutions Australia (ASA), we love helping Australian businesses of all sizes reach their automation goals, and build their sovereign capability. This lets Australian manufacturers compete on the world stage. Automated Solutions Australia (ASA) is an industry-leading expert for all your FANUC industrial robot and FANUC collaborative robot needs. Phone Automated Solutions Australia (ASA) today on 1800-ROBOTS to find out more.
If you're looking for a fast palletising robot, get in touch with us today to see if this FANUC robot is the right robot for your application.