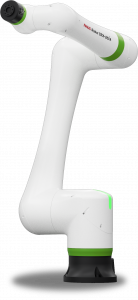 FANUC CRX-25iA Cobot – Proven Reliability and Repeatability 
The motors, reducers, sensors, cables, grease, and check marks on the FANUC CRX-25iA Collaborative Robot have an 8-year maintenance-free guarantee. Castings, reducers, cables, and sensors have also all been put through rigorous testing and have passed with flying colours. During accelerated life testing the reliability of the CRX Collaborative Robot range was very much highlighted. Couple this with 8 years of zero maintenance, the CRX range is an absolute showstopper, particularly for those with little robot experience. FANUC collaborative robots (cobots) are built for industrial use and have proven to outlast similar Collaborative Robots.
FANUC CRX-25iA's Impressive Motions
Compact in both size and weight, the smoothly designed light weight FANUC CRX-25iA Collaborative Robot's white arm readily conducts a highly functional underflip move, in order to collect a part from a surface from in front of it, and place it on the surface behind it, in one single fluid movement. As the mechanical unit is so light-weight, it can be easily placed in a wide range of manufacturing applications.
Automated Solutions Australia has been integrating FANUC robots to meet the demands of our customers for decades. ASA can manage any project from start to finish, from system concept to design programming, installation, commissioning, and maintenance. Contact ASA today, to learn more about how the FANUC CRX-25iA Collaborative Robot will help you revolutionise your production operations and leave you wondering how you ever survived without one.
With an impressive underflip motion, the FANUC CRX- 25iA Collaborative Robot, the largest in the range is simple, small, fast durable and effective, with proven reliability.
Click an Application to Explore Further:
 FANUC Paint Finishing, 
 Welding, 
 Palletising Robots, 
 Machine Tool Tending, 
 Robotic Vision Inspection Systems,             
 Plastics Painting, 
 Materials Handling Applications,
 Deburring and Polishing, 
 Fibreglass and Gelcoat Robots,                          
 Sealing and Dispensing, 
 Picking and Packaging, 
 Material Removal, 
 Shot Blasting and Peening