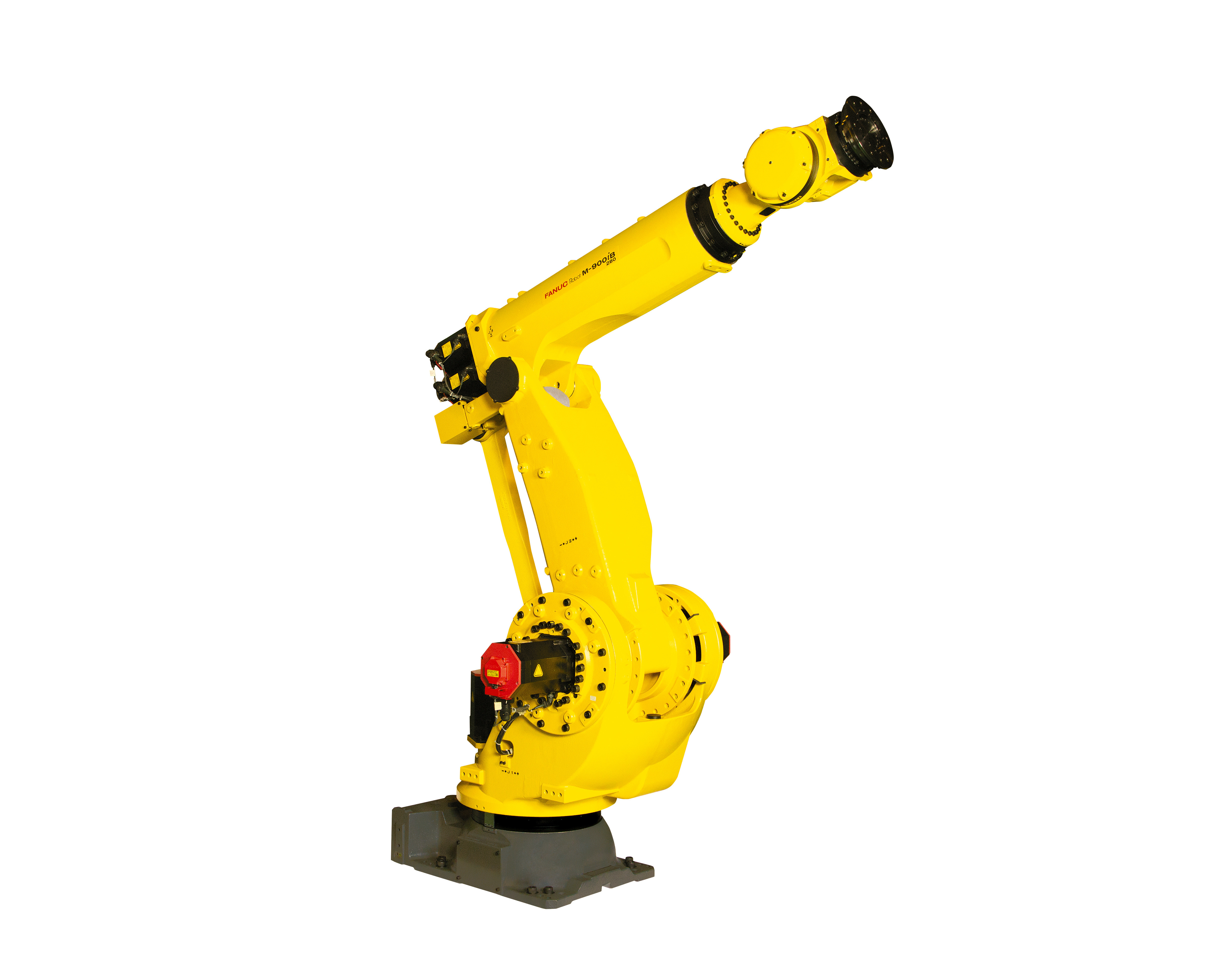 FANUC M-900iB/280 Enhanced Rigidity for Maximum Accuracy
The FANUC M-900iB/280 is based on the very powerful FANUC M-900iB/360 and boasts a newly designed J3 arm for optimal rigidity. Conforming to ISO 9283 rigidity criteria, it demonstrates a very high degree of static compliance. This makes it perfect for tasks in which pressure is applied to the tool and precision is crucial.
FANUC M-900iB/280 Applications 
Assembly
Part Transfer
Dispensing
FANUC M-900iB/280 Features
The FANUC M-900iB/280 is the rigidity expert, whilst still remaining flexible. This robot was designed specifically for flow drill screwing and roller hemming, as well as a variety of other applications requiring increased robot stiffness. The six axes give the essential tool dexterity to shorten cycle times for processes like as roller hemming.
Standard on the J3 arm and wrist is IP67 protection. As an option, the FANUC M-900iB/280  can be purchased with severe dust and liquid protection (SDLP). Additional robot base, drive train, and J1 and J2 axis dust and water protection kits are available.
Automated Solutions Australia (ASA) is your ideal FANUC industrial and FANUC collaborative robot integrator. Our industrial engineering team at ASA are FANUC robot specialists, from concept to system designs, installations, programming, and support. At Automated Solutions Australia (ASA), we love helping Australian businesses of all sizes reach their automation goals, and build their sovereign capability. This lets Australian manufacturers compete on the world stage. Automated Solutions Australia (ASA) is an industry-leading expert for all your FANUC industrial robot and FANUC collaborative robot needs. Phone Automated Solutions Australia (ASA) today on 1800-ROBOTS (1800-762-687).
If you're looking for a multifunctional robot, get in touch with us today to see if the FANUC M-900iB/280 is the right robot for your application.