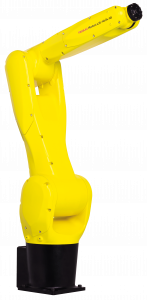 FANUC LR-10iA/10 Specifications
While this FANUC robot has a reach of 1101mm and payload of 10kg (or up to 13kg with small envelope). Surprisingly the FANUC LR-10iA/10 robot can be mounted on the floor, upside down, or at an angle. Also, it only weighs 46 kg. In addition it has an inbuilt narrow arm and is slim by design. Therefore it's compact form means it is simple to attach the robot to an AGV. However it can also be attached to other mobile platforms. Accordingly, it handles a range of repetitive jobs, or automates idle machinery. Because its small arm fits inside machine equipment to load and unload parts, it is excellent for business' with limited floor space.
FANUC LR-10iA/10 Applications
While the FANUC LR-10iA/10 is a compact 6-axis robot that can be used for machine tending, additionally it is suited to machine tending and assembly. Firstly, built-in air lines, solenoid valves, and electrical utilities are all included in a fully enclosed structure. Because of its IP67 rating, it can work in dusty, wet, and oily conditions. So this, coupled with the LR10iA/10's small design, ensure a quick installation. Lastly it proves a cost effective, straightforward solution.
Automated Solutions Australia has decades of experience integrating FANUC robots to suit our customer's needs. So ASA can manage your project from start to finish. In addition this includes system specification, design, programming, installation, commissioning, and servicing. So contact our expert team at ASA today to discuss how our FANUC LR-10iA/10 can help transform your production processes.
Undoubtedly, our industrial engineering team at ASA are your FANUC robot specialists. So from concept to system designs, installations, programming and support, we have you covered. Thus, at Automated Solutions Australia (ASA) we thrive on helping business of all sizes achieve their automation goals. Before enabling manufacturers to compete on the world stage. While building sovereign capability. So call us now on 1800 ROBOTS.