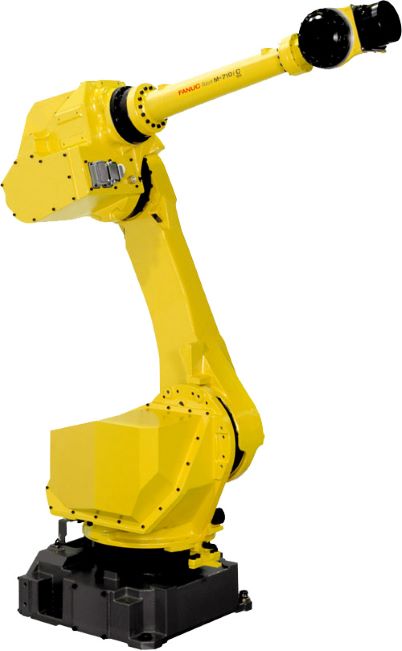 FANUC M-710iC/50 Lightweight Multipurpose Robot
The FANUC M-710iC/50 is a lightweight robot with a narrow wrist, robust arm, and a tiny footprint. Because of it's high axis speed and 6 axis adaptability, the FANUC M-710iC/50 is popular for robotic machine tending, grinding, polishing, deburring, water jet cutting, and cleaning applications. This robot features very high axis speeds and a big envelope, enabling very fast handling of larger or heavier work pieces, or even higher pallet stacking.
Assembly
Load/Transfer
Dispensing
Spot Welding
FANUC M-710iC/50 Features
With high axis speeds and a huge envelope, the FANUC M-710iC/50 allows for rapid handling of bigger or heavier workpieces and even greater pallet stacking heights.
The FANUC M-710iC/50's large work envelope and 50 kg payload capacity make it excellent for transporting bulky objects such as glass and steel sheets.
The FANUC M-710iC/50 has an optional secondary food grade version which is epoxy-coated white body for secondary food processing and handling applications such as tray picking, handling, and transfer.
Automated Solutions Australia has decades of experience integrating FANUC robots to suit our customer's needs. ASA can manage your project from start to finish, including system specification, design, programming, installation, commissioning, and servicing. Contact our expert team at ASA today to discuss how our FANUC M710IC/50 can help transform your production processes.Whether you are a large or small manufacturer, we invite you to contact Automated Solutions Australia to explore the FANUC range today. Our industrial engineering team at ASA are FANUC robot specialists, from concept to system designs, installations, programming and support. At Automated Solutions Australia (ASA) we thrive on helping business of all sizes achieve their automation goals, enabling manufacturers to compete on the world stage while building sovereign capability. Call us now on 1800 ROBOTS (1800 762 687).
For the latest News on this robot, click here.
If you're looking for a multifunctional robot, get in touch with us today to see if the FANUC M-710iC/50 is the right robot for your application.