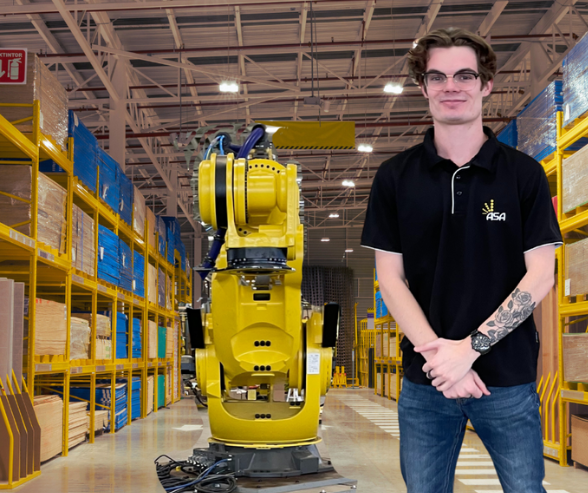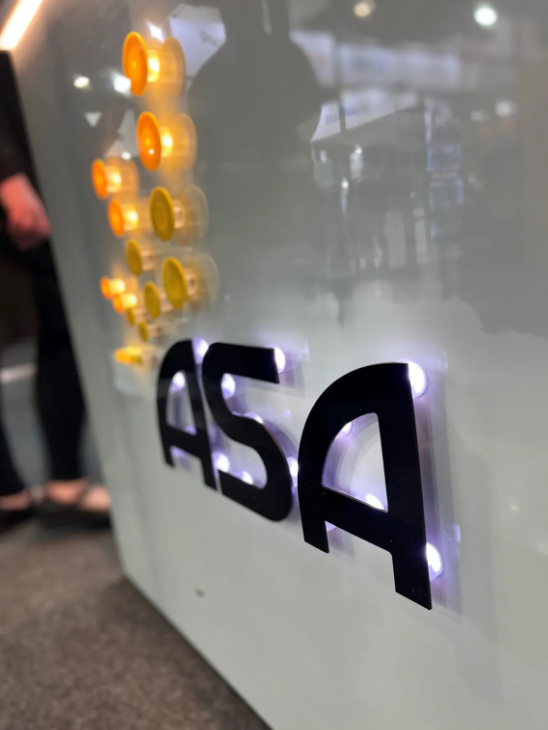 In the ever-evolving landscape of automation, robotics has taken centre stage, transforming industries across the globe. To gain insights into this dynamic field, we sat down with Franklin Wright, a young and passionate professional working at Automated Solutions Australia (ASA). Franklin shared his experiences, challenges, and exciting developments in the world of robotic automation.
A Newcomer with a Bright Future
Franklin, who joined ASA in April, quickly made his mark in the Sealer process division. After graduating from university just last year, he embarked on a journey that led him to Michigan, USA, where he trained on projects for FANUC America and assisted original equipment manufacturers (OEM's) in applying sealant to their latest car models. "I only started with ASA in April this year after graduating from university last year. ASA provided all the required training, and I'm now part of the Sealer process division of ASA, where I work on projects for FANUC America. For the past 5 months, I've been working in Michigan, USA, on projects for one of the OEM car manufacturers, where I teach tool paths to apply sealant to their new car models," Franklin explained.
The Joy of Working with Robots
Franklin's enthusiasm for his work is contagious. He enjoys the hands-on aspect of his job, saying, "I just love being able to spend my days moving robots around – they're literally just giant remote-controlled devices. It's also incredibly satisfying spending a day teaching various paths and then running it in automatic mode at the end of the day."
Overcoming Challenges and Achieving Milestones
One of Franklin's proudest moments came while working on a complex project: "Even in my first 6 months with ASA, I've been given cells which are my responsibility to ensure everything is completed by the deadline. Most recently, we were working on a hem flange sealer cell, which is considerably more complicated than most cells as it uses a lot of communication between robots to open doors. To further increase the complexity, it uses 16 cameras, which take images to tell the robots where parts of the car are, relative to the robot. I felt incredibly proud when this was complete after overcoming all the difficulties that this type of cell provides."
A Day in the Life of a Robotic Automation Specialist
Franklin's typical workday involves a fascinating mix of tasks: "I just drive robots all day. It's like being a big kid in a big toy shop. Each day also includes a lot of problem-solving, whether it is how to best teach the path or something major like figuring out how to get the robots to communicate to request a door to open and then wait until it's been fully open. There's rarely a moment where I'm not trying to find a solution for some kind of problem, and what I love is that it is something different every day."
Key Responsibilities and Constant Learning
Teaching robots and setting up various aspects of the cell are at the core of Franklin's responsibilities. He explained, "90% of my job is teaching paths to the robots. I also am responsible for setting up various other aspects of the cell, like dispenser meters, vision cameras, and purge stations to applicator tips after a job."
Exciting Developments on the Horizon
Franklin is excited about the future of sealer technology, as new cells and means of dispensing are developed. These rely more and more heavily on vision technology due to its need for extreme accuracy. He finds the use of vision processes particularly fascinating and believes this technology holds immense potential in their field.
Teamwork Makes the Dream Work
The path to success is not always smooth, and Franklin shared a challenging experience: "On a hem flange sealing cell I mentioned above, myself, Dylan, & Lucas were working on the cell. As it was one of the last cells for the project, there was limited time to complete everything – made even more difficult by the added complexity of hem applications. However, through the synergy of teamwork and friendship, we were able to power through and get everything done in time. We encountered many hold-ups, but our team managed to cope with all of them to provide a polished end-product by the deadline. This was only possible due to the high work ethic of all three of us and our ability to pull together to help each other get the job done."
Dreaming of the M2000iA
Franklin's favourite robot model, the M2000iA, may be out of reach on the project he's on currently, but it represents his passion for automation. This massive robot, used for handling car units on assembly lines, captivates his imagination.
Advice for Future Automation Enthusiasts
Franklin encourages those interested in a career in robotic automation to pursue their passion and drive. His background in mechanical engineering didn't deter him from entering this exciting field, thanks to the comprehensive training and support and he was offered as part of the graduate program.
In the world of robotic automation, Franklin Wright's journey is a testament to the boundless opportunities and exciting challenges that lie ahead. As ASA continues to push the boundaries of automation, individuals like Franklin are at the forefront of shaping the future of this dynamic industry.