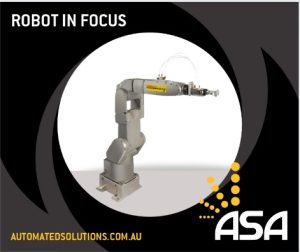 The FANUC Paint Mate 200/5L is the class's lightest robot, weighing in at only 35 kg. This lightweight is a heavy hitter in the paint world – perfect for consistent application to a wide range of small parts. The Paint Mate 200/5L features a unique purge cavity that ensures it is suitable to spray solvent borne coatings. Many manufacturing facilities would benefit from adding the FANUC Paint Mate 200/5L. To make the most of even the smallest booths, it has choices for floor, inverted, angle, and wall installation.
The Fanuc Paint Mate 200/5L features internal valving for control of the paint gun fan air and fluid flow control. Optionally these can be repurposed for pneumatic gripper control to handle parts in hazardous areas enabling it to carry out a number of other tasks. Tasks such as coating, assembling, handling, and dispensing are all within the reach of this miniature painter, removing your valued employees from contact with chemicals that endanger your employees' safety and well being, the FANUC Paint Mate 200/5L is an ideal solution.
ASA is your Australian FANUC Paint Finishing integrator.  Our team at ASA are specialists, from concept to system design, installations, programming and support.
To read more about the FANUC Paint Mate 200 5/L click here
To speak to the paint experts, phone 1800 ROBOTS (1800 762 687)