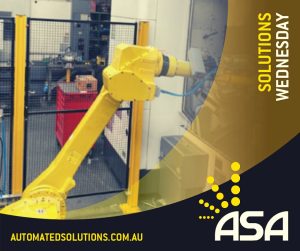 Problem:
Back in 2021 RC Williams came to ASA looking to fit out their Multitasking Okuma U3000 machine with a fully flexible, reliable FANUC robot system, with the ultimate goal to run their machine unmanned 24/7. Their goal was to increase productivity due to high demand for products and workpieces. At that time with Covid-19 impacting shutdowns across the world, robot ex-factory times were beginning to be impacted, while RC Williams were keen to get their Okuma U3000 serviced by a robot as soon as possible.
Solution:
With a warehouse in Adelaide housing a small fleet of reconditioned and demonstration model robots with low hours, ASA deployed one of the stock units to RC Williams, with a view to replace that robot once the new one arrived. Early this year ASA installed one of their FANUC R2000iB demonstration units to temporarily tend to RC Williams Okuma U3000, which increased throughput significantly by tending to the machine around the clock to unload machined parts and reload raw stock as soon as the machine was ready. Recently ASA returned to RC Williams to remove and replace the reconditioned robot with a brand new FANUC M710iC/45M. The FANUC M710iC/45M was chosen from a unique lineup of lightweight FANUC robots for RC Williams. The M710iC/45M features a slender wrist, robust arm and high axis speeds. It's 2606mm reach and 45kg payload make it an obvious choice to tend to an Okuma U3000.
We featured this story in our recent Newsletter Axis, to read it in full, click here.
Got a problem? We may have the solution! To speak to the automation experts phone 1800 ROBOTS